WE HAVE OVER 1900 PRODUCTS ON OUR SITE! SEARCH FOR YOUR PRODUCT HERE:
Home Brew Starter Kits (Beer & Lager)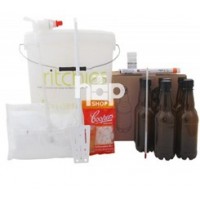 Welcome to the World of frugal living & craft brewing, you make your own food so why not the drinks also?
With a Homebrew Starter Kit you can, just as with home cuisine, start making your own beverages which becomes progressively easier as persistence pays dividends - & remember we are with you all the way with practical tips & advice.
Gives us your time & we'll give you the expertise.
Here is a range of starter kits to enable even a complete novice to produce top quality beer lager or cider at home time after time from the same equipment - & we're always here online with ready advice.
With one good brew the equipment will have paid for itself.
An excellent way to commence brewing straight away.