WE HAVE OVER 1900 PRODUCTS ON OUR SITE! SEARCH FOR YOUR PRODUCT HERE:
Home Brew Wine Starter Kits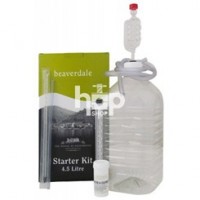 Welcome to the World of practical wine making - an extension of home cuisine.
It is easier than it looks & after a bit of persistence there will be a really great pay back in product, time & financial saving.
Remember, we are always here on the end of the phone or email to answer any queries.
Gives us your time & we'll give you the answers.
We remember what it was like when we first started, so we treat each query with care to enable you to persevere.
This range of starter kits enable even a complete novice to produce top quality wine at home.
One good ferment & the cost of the equipment & ingredients will have paid for themselves.