WE HAVE OVER 1900 PRODUCTS ON OUR SITE! SEARCH FOR YOUR PRODUCT HERE:
Woodforde's Beer Kits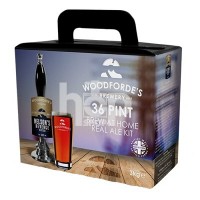 Woodforde's Beer Kits are home brew kits based on some award-winning recipes.
A fine range of ales made to recipes from an award-winning Norfolk brewery which stand out for their superb hop aromas.
No brewing sugar needed other than for priming for the secondary fermentation.
Outstanding kits.