WE HAVE OVER 1900 PRODUCTS ON OUR SITE! SEARCH FOR YOUR PRODUCT HERE:
VineCo Estate Series Wine Kits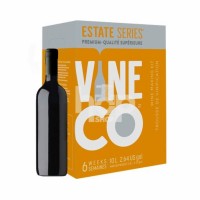 The Vineco Estate Series is a direct replacement for the Atmosphere range.
Due to a much more efficient grape juice concentration process all Canadian wine kits are being made smaller.
This gives a product that uses less packaging and easier to ship around the world but will make the same top quality wine.
These kits contain 10 litres of concentrated varietal grape juice. VineCo Estate Series is the perfect choice.
Selected from the world's most renowned wine growing regions, and made with the highest quality juices and concentrates, it's love at first sip.
Experience the rewarding satisfaction of crafting one of the most outstanding premium wines, with a choice of unique styles from Cabernets to Chardonnays – it's wine that's truly noteworthy.
Ready to bottle in just 6 weeks.