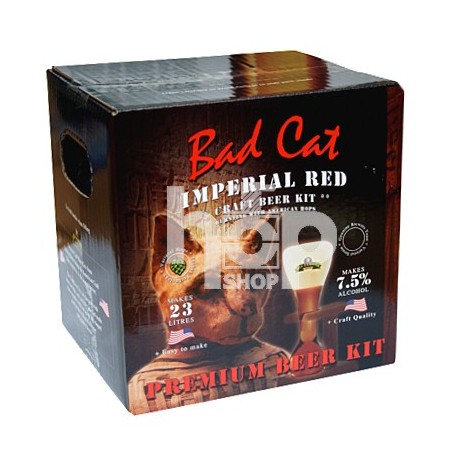  
Bulldog Bad Cat Imperial Red
Bursting with hops, 4.7Kgs of fine malt extracts & made with special craft yeast to produce a beer full of potency with 7.5% abv!
Bad Cat Imperial Red is the first ever Imperial Red beer kit available to home brewers.
Full bodied, bursting with malty flavours and powerful fruity and citrus hop aromas from the American Amarillo and Willamette dry hopping.
Everything you need is in the box.
No sugar is required, except a small amount for priming after fermentation.
Makes 23 litres at an ABV of 7.5%.
Colour: 30-35 EBC
Bitterness:35-40 EBU
Tip:keep the fermenting temperature to atleast 20C to assist the yeast.
Range Information
More malt extract, varietal yeasts, varietal finishing hops.
Bulldog Brews use up to a third more malts and extracts than most beer kits to significantly raise the quality of the beers produced.
They take the established traditional quality and then add the latest brewing technology to give the best possible quality home brew beermaking experience.
As these are premium kits, you will of course not need to add any sugar when you start your fermentation.
They contain pouch technology (no metal cans anywhere).
Different weights are used for different kits in the range with specific hops sachets & dedicated double quantity heavily flocculating yeasts.
Please see below for compatible items associated with this product.
Only users who already bought the product can add review.