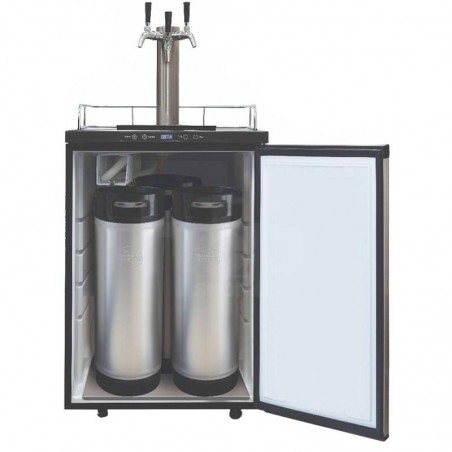  
Mangrove Jack's 3 Tap Kegerator with Kegs
Three Tap Kegerator
This completely controllable Kegerator is ideal for homebrewers and beer enthusiasts to keep your kegs chilled and beer ready to dispense.
This kegerator features three taps and has room to store 3 x 19L Corny kegs - that's over 100 pints of craft beer on draft!
Includes all relative connections & CO2 Regulator you can pour three of your favourite beers at the same time.
Your beer will be delicious and chilled when poured straight into your glass, and as your beer matures more quickly, the quality will improve even further.
You can get started straight away as it comes with a complete dispensing solution including a C02 regulator, gas and liquid disconnects and tubing and a 3-tap beer tower with 3 stainless steel taps.
No more worries about carbonation, storage and chilling with this setup.
We recommend standing the unit upright for 24 hours prior to switching it on after any transportation.
Features
Can fit up to 3 x 19 L Cornelius kegs or one 50 L commercial keg
Digital thermostat with a temperature range of 2-28°C (26-82 F)
Front-mounted digital thermostat so it is easy to set the optimum temperature for the type of beers being dispensed
Easy to assemble beer and gas lines to reduce foaming
Tap tower fan cooling system for perfect pouring
What's Included?
Keg fridge with 5.8 cubic ft. keg cooling capacity
Robust MKIII C02 regulator
Gas and beer lines with push-fit components
3-tap stainless steel beer tower
Stainless steel forward sealing taps
Cradle to hold a C02 bottle on the back of the keg fridge
Glass rack and fridge shelves
Tower fan
Drip tray
3 x Mangrove Jack's 19L Cornelius Style Kegs
Specifications
External Measurements: Tower Height - 320mm | Fridge Height - 880mm | Width - 600mm
Depth - 595mm / 730mm with CO2 holder | Rail Height - 70mm | Wheels/Castors Height (on the base) - 55mm
Internal Dimensions: Width - 540 mm | Diameter - 395 mm | Height - 725 mm
Refrigerant - R600a
Rated Voltage - 220V - 240V
Rated Frequency - 50Hz Rated Current - 0.8A
Temperature Range - from 0-28°C (23-82.4°F)
Polite Notice
Only available for Mainland UK shipping.
Due to the volumetric size of the product we ship safely on a pallet.
Expect delivery is 1-3 days from the time of palletisation, not the order placement.
Please ensure that there is someone at the shipping address to receive your order.
For further clarification do not hesitate to contact us at 01752 660382 or sales@hopshopuk.com
*A discount on this item if you are able to collect it directly from our store - please call before travelling.
P Mark




Jul 3, 2023




Great so far. Excellent experience

Easier to set up than expected. Also bigger! Delivery was coordinated very well. Great help with questions on accessories.
Only users who already bought the product can add review.