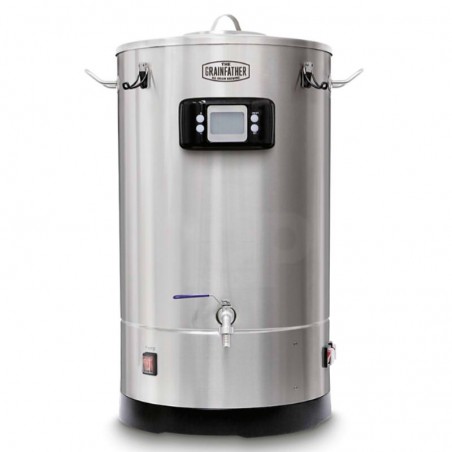  
Grainfather S40 - Brewing System
The Grainfather S40 Brewing System has a 46L capacity, allowing you to create 40L of beer every time, aimed at an affordable price point for people looking to dip their toes into the craft beer scene.
Due to the increase capacity you are able to brew enough wort for 2 x 19L corny kegs or implement a no sparge method for a single brew. Made from twin walled 304 grade Stainless Steel, this gives the unit added insulation increasing your brewing efficiency with holding consistent mashing temps. The 2.3kw elements make light work of bigger batches and can be reduce to 1kw for a more steady control of mash temperatures.
The built in pump returns the wort through the recirculation arm at the rear of the unit, this is then distributed via the silicone sprayer. One of the best features is the newly designed mashing basket which includes a fixed base, and perforations on the side. This allows great recirculation without the need of complex overflow pipework, so is quicker to mash in, harder to go wrong and perfect for beginners as well as experienced brewers that want a quick, easy brew day.
---
Features
Sleek 304 grade stainless steel body
Easily manage heating using the digital controller with colour display
Built in pump for maximum brewing efficiencies
Easily cool wort with the stainless steel immersion chiller
Recirculation arm for more efficient mashing
Backed by a 2-year warranty 
What's Included
Grainfather S40
Grain Basket
Lid
Immersion chiller with hoses
Recirculation arm and wort sprayer
Connection Fittings
Specifications 
Dimensions: 680mm x 480mm
Weight: 25kg
Capacity: 46L
Batch Volume: Max: 40L - Min: 10L
Grain Bill: Max: 10kg - Min: 5kg
Power: 2300w, 220v
Connectivity: None
Click for a video on How to Assemble
Only users who already bought the product can add review.