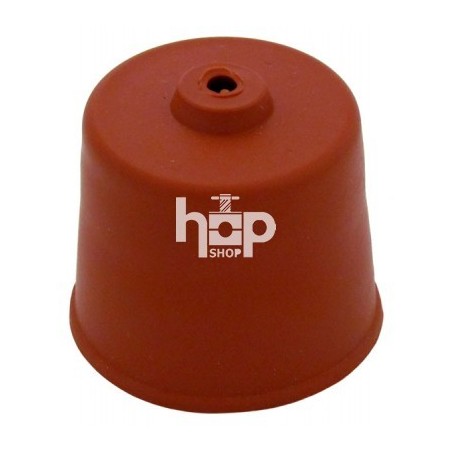  
Carboy Rubber Cap - Large
Available in three different sizes.
This cap is made from flexible natural rubber, and fits over the neck of a carboy rather than inside the neck.
This allows for a really good seal and more flexibility.
These caps come in various sizes, and fit most glass carboys up to 54 litre capacity and all sizes of the straight sided carboys available on our website.
The medium and large caps fit well on the glass carboys with the medium fitting slightly tighter on the neck.
Each carboy cap has a small hole in the middle which allows the use of an airlock.
Small Cap
External Measurements: Approximately 5.5x5.5x4cm
This cap is not recommended for our carboys or demijohns as they are very tight fitting.
Medium Cap
External Measurements: Approximately 6x6x4.5cm
This cap fits most of our carboy neck sizes, and will fit all our straight sided carboys.
Large Cap / 54L Cap
External Measurements: Approximately 7x7x5.5cm
This cap will fit carboys with a wider neck such as carboys with a 54L capacity, and will also fit on our straight sided carboys with a little more room.
---
Only users who already bought the product can add review.