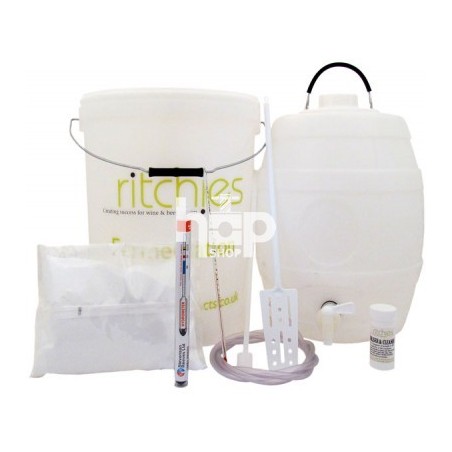  
Homebrew Beer/Lager making Starter - Equipment only - for barrelling
This kit includes everything needed except the beer kit (beer style) to make 40 pints of lightly sparkling beer or cider.
Pack Contents:
A full page of our detailed instructions + email back up.
A Generous 33 Litre Food Grade Fermenting Bucket with Lid and  bubbler airlock
A 25 Litre Pressure Barrel Complete with Pressure Relief Cap
A 1kg pack of Brewing Sugar
A Hydrometer
A Thermometer
A Tub of Steriliser
A 1.5 metre length of syphon tubing complete
An 18" Sediment trap
A Mixing Paddle
A comprehensive instructions leaflet & our pleased to assist back up service and is easy to use.
The use of a barrel enables the drawing off of beer/lager at will, ideal for sessions & regular drinking.
It keeps well for up to 5 months, providing it does not loose the pressure from its natural carbonation.
With moderate drinking & possibly the gradual depletion of pressure consider using a barrel cap fitted with a CO2 valve, for topping up the carbonation & keeping the brew in good condition.
Having chosen the equipment pack, now please feel free to choose from any of the kits below or any from the remainder of the website.
---
Only users who already bought the product can add review.