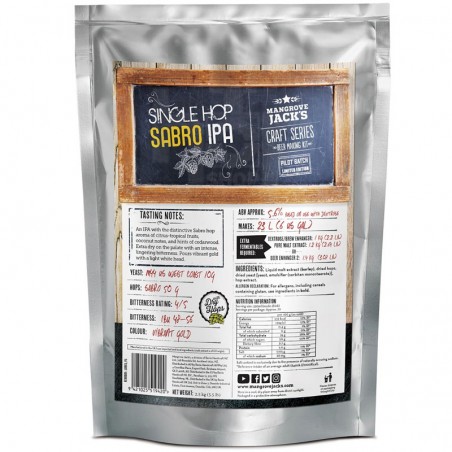  
Mangrove Jack's Single Hop Sabro IPA Beer Kit
Mangrove Jack's Single Hop Sabro IPA Beer Kit, is extra dry on the palate with an intense lingering bitterness.
This Mangrove Jacks IPA Kit has the distinctive sabro hop aroma of citrus-tropical fruits, coconut notes and hints of cedarwood.
---
ABV Approx: 5.6% | IBU: 48-56 | Bitterness: 4/5
Yeast: M44 US West Coast 10g | Hops: Sabro 50g
---
Mangrove Jack's Sabro IPA beer kit produces up to 40 pints and requires the addition of 1 kg brewing sugar.
If you are looking to experience a beer with better flavour, body, head retention and mouthfeel.
Then we recommend swapping out the sugar for 1.2 kg Pure Liquid Malt Extract or 1 kg Beer Enhancer. 
---
Mangrove Jacks Craft Series are premium beer kits, bringing the modern-day man the latest trends in the craft beer industry.
Only users who already bought the product can add review.