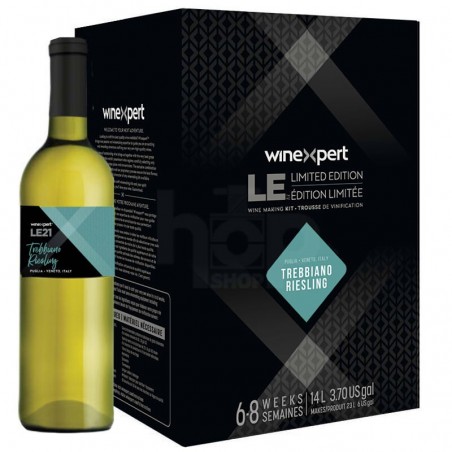  
Winexpert LE21 Italian Trebbiano Riesling (Pre-order white)
Pre-Order Ends October 31st 2021 - Shipping May/June 2022
This Spanish Italian Trebbiano Riesling Limited Edition 14L Wine Kit produces 28-30 bottles of exceptional wine, includes labels.
Lemon peel, melon, and green apple on the nose with a light chamomile undertone.
The palate offers orchard fruit flavours of yellow apple and white peach fused with melon, citrus, and fresh minerality.
This inviting blend showcases the high natural acidity of both Trebbiano and Riesling; it's fun, fresh, and fruity with a touch of sweetness and a lot of pizzazz.
Sweetness: Off-Dry | Body: Medium | Oak: None | Alcohol: 12.5% ABV | Region: Puglia & Veneto, Italy
The total cost of this wine kit is £110, reserve yours here now with a £10 deposit with the balance to be paid in full at delivery.
Only users who already bought the product can add review.