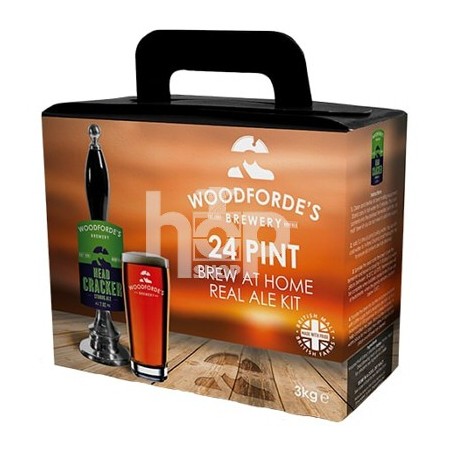  
Woodforde's Headcracker Barley Wine
Cheapest all malt brewing kit we run.
Headcracker, aptly named, is a pale smooth yet deceptively strong barley wine.
Its sweetness in the palate is perfectly balanced by a distinct hoppiness and bitterness.
With a 7% ABV the aftertaste of Headcracker is truly warming!
Long admired by beer enthusiasts throughout the world, Woodforde's Headcracker has many awards to its credit winning CAMRA's "Champion Barley Wine" award in 1993/94 & 1994/95.
Makes 24 pints (14 litres).
Range Information
From some of the award winning best recipes.
A fine range of ales made to recipes from an award winning Norfolk brewery which stand out for their superb hop aromas.
No brewing sugar needed other then for priming for the secondary fermentation.
Outstanding kits.
Only users who already bought the product can add review.