WE HAVE OVER 1900 PRODUCTS ON OUR SITE! SEARCH FOR YOUR PRODUCT HERE:
Home Brew Beer Kits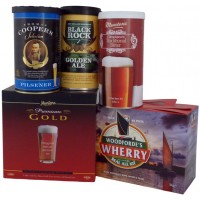 Unleash Your Inner Brewer: Home Brewing Beer Kits for Every Taste
Explore our diverse range of beer brewing kits from renowned brands such as Coopers, Muntons, Mangrove Jack's, Geordie, Woodfordes and more.
Each home brew kit includes everything you need to make up to 40 pints of delicious home brew right from the comfort of your own home.
This includes easy to follow instructions, quality malt extract, and dedicated yeast to ensure a successful brewing experience.
For those looking for the best brewing beer kits available, some of our premium kits also feature hop pellets and extra malt or brewing sugar.
Whether you're a seasoned brewer or a newbie, there's something for everyone, from brewing a tangy IPA, a full-bodied lager, or diving into the richness of craft beers, we've got a beer kit to meet your unique taste.
Your Brewing Journey Begins Here: Starter Beer Kits
Are you ready to embark on an exciting journey into the world of homebrewing?
Look no further! Our affordable home beer brewing starter kit serves as the perfect introduction.
This bundle includes essential fermentation equipment, a comprehensive beer kit, and easy-to-follow instructions to ensure your first brew is a resounding success!
With our value-packed, cheap home brew kits, you can craft your own unique beer at home for a fraction of the cost of store-bought brews.
Brew from Scratch: All Grain Beer Kits
For the seasoned homebrewer eager to create beer from scratch, our all grain beer kits are the ideal choice.
Each all grain recipe kit comes with malted grains, fresh hops, dedicated yeast, and detailed instructions, helping you craft a beer that's truly yours.
Please note that you'll need grain brewing equipment like a brewing kettle or brewing system to get started with these kits.