WE HAVE OVER 1900 PRODUCTS ON OUR SITE! SEARCH FOR YOUR PRODUCT HERE:
Beaverdale Wine Kits - 30 Bottle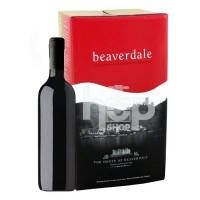 Beaverdale Wine Kits 30 Bottle: Embrace the Art of Winemaking
Welcome to our collection of the renowned Beaverdale Wine Kits. This selection is specifically dedicated to the 30 bottle wine kits that Beaverdale offers, a popular choice amongst the homebrewing and winemaking communities worldwide. Our collection features a wide range of styles and flavors, giving you the opportunity to produce high-quality homemade wine with the essence of the finest vineyards right in the comfort of your home.
Beaverdale Wine Kits: A Journey into Winemaking
Beaverdale wine kits are the gold standard for homemade wines. They are synonymous with quality, being made from 100% pure varietal grape juice, sourced from the world's best vineyards. This commitment to using pure grape juice rather than concentrates, results in wines that are rich in flavor, full-bodied, and comparable to commercial wines in terms of taste and quality.
Each Beaverdale wine kit contains all the necessary ingredients for a successful winemaking experience. The package includes grape juice concentrate, yeast, and all the required additives. All you need is water, some basic homebrewing equipment and the desire to delve into the delightful journey of winemaking.
A Wine for Every Taste
Our Beaverdale 30 bottle wine kits offer a variety of wine styles to choose from. Whether you're a fan of robust reds, wonderful whites, or ravishing rosés, there's a Beaverdale wine kit for you. For those who enjoy the crisp freshness of white wines, the Beaverdale Sauvignon Blanc is a popular choice. If you're a red wine enthusiast, Beaverdale also offers an array of red wine kits that are sure to satisfy your palate. Each wine kit is designed to produce 30 bottles of wine, perfect for stocking up or sharing your delicious creation with friends and family.
Winemaking Made Easy
With Beaverdale, you don't need to be a seasoned winemaker to produce delightful homemade wine. Each Beaverdale wine kit comes with detailed instructions on the winemaking process, making it accessible for both beginners and experienced winemakers. As a winemaker, you'll get to experience the magical transformation of grape juice into wine, all the while learning and perfecting the craft of winemaking.
Embrace the Winemaking Journey
Our collection of Beaverdale 30 bottle wine kits is the perfect starting point for your winemaking journey. With high-quality ingredients, a range of styles and flavors, and easy-to-follow instructions, Beaverdale offers a comprehensive solution to homemade winemaking. Whether you're just starting or looking to elevate your winemaking skills, embrace the art of winemaking with Beaverdale.
Experience the satisfaction of producing your own wine, with a taste that competes with some of the finest commercial wines. Take your pick from our collection of Beaverdale wine kits today and embark on an exciting winemaking adventure.