WE HAVE OVER 1900 PRODUCTS ON OUR SITE! SEARCH FOR YOUR PRODUCT HERE:
Home Brew Starter Kits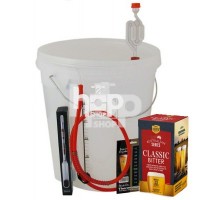 Home Brew Starter Kits
Homebrew starter kits are sets of equipment and ingredients that are designed to help beginners get started with brewing at home.
All our home brew kits include all the essential equipment, home brew kit & instructions you need to make a batch of beer, wine or cider.
A homebrew starter set includes a fermenting vessel, airlock, syphoning apparatus, hydrometer & thermometer to help you monitor the fermentation process.
Additional equipment such as bottles or barrels may be included with bigger bundles.
Homebrewing can be a fun and rewarding hobby, & home brewing kits are a great way to dip your toe in the water and see if it's something you'd like to pursue further.