WE HAVE OVER 1900 PRODUCTS ON OUR SITE! SEARCH FOR YOUR PRODUCT HERE:
Wine Kits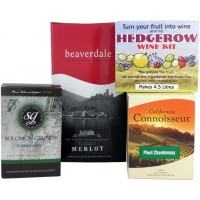 We stock a wide range of wine kits from Canada, Denmark and the U.K.
Where time & space are limited, 'kits' are a great way forward, producing excellent results in a relatively short space of time.
The kits are split into 1 gallon (6 bottles) or 5 gallons (30 bottles) & the time expended on the larger is not much more than the smaller.
You might then prefer to stick with the kits or let them provide you with a stop gap or supplement to maturing 'hedgerow' production.
Either way, this is a great intro to gracious living at minimal cost.