WE HAVE OVER 1900 PRODUCTS ON OUR SITE! SEARCH FOR YOUR PRODUCT HERE:
Starter Kits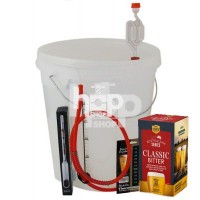 Home Brew Starter Kits
Beginner-friendly home brew starter kits for all your home brewing needs, an ideal gift for someone new to the craft or looking to make wine, beer or even cider. Here is a great way into homebrew & we stock the whole range from low-cost budget kits to professionalised equipment for the best crafted in the World.