WE HAVE OVER 1900 PRODUCTS ON OUR SITE! SEARCH FOR YOUR PRODUCT HERE:
SG Wines - 30 Bottle Wine Kits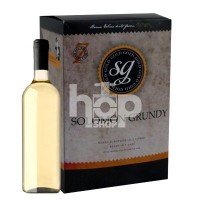 Solomon Grundy Wine Kits
Looking to create your own homemade wine? Look no further than Solomon Grundy Wine Kits, the original 7-day wine-making kit that has been a household name since 1995.
This long established brand of winemaking kits are great for beginners and are available in 6 and 30 bottle options - giving you the flexibility to choose your entry level. 
Home Brew Made Easy with Solomon Grundy Wine Kits
With Solomon Grundy Wine Kits, making your own wine at home has never been easier simply add sugar and water and let the kit do the rest.
These home brew kits include a blend of grape juice concentrate, yeast, and other necessary ingredients to ferment and make up to 6 or 30 bottles of wine.
All you will need is some basic home brewing equipment to get you started so check out our homebrewing starter section.
Solomon Grundy - Classic and Gold Wine Kits
Solomon Grundy offers two range of wine kits, these are Solomon Grundy Classic Wine Kits and Solomon Grundy Gold Wine Kits.
The Solomon Grundy Gold produces commercial-style wines that exhibit a bold and rich flavor, using add-backs to enhance the wine's complexity.
A popular choice being the Pinot Grigio kit that produces a crisp and refreshing white wine, perfect for sipping on a hot summer day.
Solomon Grundy Classic on the other hand produces generic table wines such as a Dry Red, Dry White, Sweet White & Rose.