WE HAVE OVER 1900 PRODUCTS ON OUR SITE! SEARCH FOR YOUR PRODUCT HERE:
Belgian, Wheat & Barley wine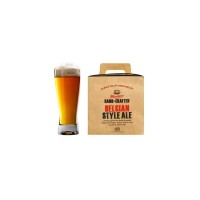 Beer in Belgium varies from pale lager to amber ales, lambic beers, Flemish red ales, sour brown ales, strong ales and stouts.
In 2018, there were approximately 304 active breweries in Belgium, including international companies, such as AB InBev, and traditional breweries including Trappist monasteries. 
Most beers are bought or served in bottles, rather than cans, and almost every beer has its own branded, sometimes uniquely shaped, glass.
In 2016, UNESCO inscribed Belgian beer culture on their list of the intangible cultural heritage of humanity
Wheat beer is a top-fermented beer which is brewed with a large proportion of wheat relative to the amount of malted barley.
The two main varieties are German Weißbier and Belgian witbier; other types include Lambic (made with wild yeast), Berliner Weisse (a cloudy, sour beer), and Gose (a sour, salty beer).
Barley wine beer is a strong ale that leans heavily on malt characteristics for flavour.
With a wide color range and characteristically high in alcohol content, this is a style that is often aged, as it evolves well over time.