WE HAVE OVER 1900 PRODUCTS ON OUR SITE! SEARCH FOR YOUR PRODUCT HERE:
Tom Caxton Beer Kits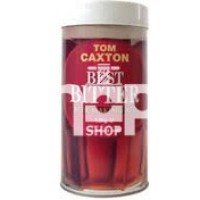 Tom Caxton Home Brew Beer Kits
Looking to brew your own delicious real ale at home? Look no further than Tom Caxton Beer Kits!
Tom Caxton launched the "Homebrew" concept and brought this fascinating hobby to the attention of the British public back in the 1970s.
Each Tom Caxton home brew beer kit contains 1.8kg of high-quality malt extract with dedicated yeast and a set of instructions.
You can enjoy the satisfaction of brewing your own beer without any of the hassles with these easy beer kits.
Tom Caxton beer kits are perfect for both novice and experienced brewers alike all you will need is some basic equipment & 1kg of brewing sugar.
To have a beer with improved flavour, body, head retention, and mouthfeel, we suggest replacing sugar with either a Beer Enhancer.