WE HAVE OVER 1900 PRODUCTS ON OUR SITE! SEARCH FOR YOUR PRODUCT HERE:
Wine Making Equipment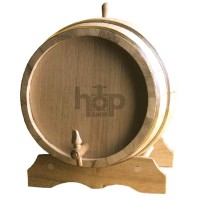 Wine Making Equipment for Home Brewing
Discover the joy of home wine making with the right equipment – the key to unlocking your creative winemaking potential. Whether you're starting your first batch or perfecting your established craft, our extensive selection of home wine making equipment supports your journey from grape to glass.
Wine Making Made Simple - And Economical
What You Need:
Begin with the basics - a fermentation vessel, a quality press for your fruits, dependable corks and bottles for aging, and the right cleaners to keep everything pristine. Our range includes both beginner wine making supplies and advanced equipment to suit your level of expertise and budget.
Cost-Effectiveness:
When it comes to homebrewing, cost-saving is significant. Our competitively priced wine making supplies mean that crafting your personal vintage is not only rewarding but also cost-efficient.
Your Guide to Easy Wine Making at Home
Wine Kits:
Offer an easy and economical solution, bundling all the necessary ingredients and instructions needed to make up to 6 or 30 bottles of quality homemade wine. These kits are perfect for beginners and busy vintners, simplifying the process and saving you time and money without compromising on quality.
For those who prefer the authenticity of creating their wine from scratch, our detailed Grape Wine Recipe provides a rewarding experience of crafting wine from the very beginning.
Catered to Your Needs
Comprehensive Range:
From essentials for beginners to professional and commercial-grade equipment, our selection caters to the diverse needs of our customers across the UK.
Scale of Operation:
Whether you require a single piece of equipment or a full set-up for larger productions, our inventory supports your wine making endeavours.
Commitment to Service
Our team is dedicated to providing you with not just supplies, but also knowledge and support. Have questions about the winemaking process or equipment choices? Our experts are ready to assist, ensuring that your experience is as refined as the wine you create.
Explore and Discover
Delve into our collection and take the next step in your wine making journey. Find the perfect equipment that aligns with your ambition and allows you to produce quality wine at home.