WE HAVE OVER 1900 PRODUCTS ON OUR SITE! SEARCH FOR YOUR PRODUCT HERE:
Magnum Wine Kits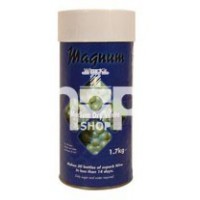 Magnum Wine Kits: Your Gateway to Premium Home Winemaking
Magnum Wine Kits are a popular choice among home winemakers looking to produce their own quality homemade wines. These kits are known for their value for money, offering an affordable and convenient way to create wine at home. Alongside 1.7kg of pure Italian grape juice, each homemade wine kit includes detailed instructions, yeast, and other necessary additives. Simply add water and 3.5kg of brewing sugar, and you can produce up to 30 bottles of medium dry wine.
Explore the Flavours of Magnum Wine Making Kits
Magnum Wine Kits offer a delightful selection of wine varieties, allowing you to explore different flavours and styles that suit your personal taste preferences. Here's a glimpse into some of the flavours you can experience:
Red Wine: A Chianti-style table wine that mirrors the qualities of great Italian Chianti's, this Red offers a medium dry taste with good body and rich dark red colour. Crafted with the same type of grape juice found in the illustrious Italian Chianti's, it's perfect for those who appreciate a robust red wine.
Rosé Wine: Designed to be served cold, this Rosé is a fruity, medium dry rosé that embodies a delightful freshness. Its vibrant flavours are perfect for sipping on a warm day or pairing with light dishes.
White Wine: Using a concentrate based on the northern Italian Trebbiano grape, this wine produces a well-balanced medium dry white wine. Its subtle complexity and refined taste make it a versatile choice for various occasions and pairings.
Pinot Grigio: Infused with a small amount of Pinot Grigio grape juice, this wine produces a medium dry white that's both flavourful and satisfying. The Pinot Grigio's distinct characteristics lend a unique touch, making it a favoured choice among white wine enthusiasts.
Why Choose Magnum 30 Bottle Wine Kits?
Quality Ingredients: Only the finest Italian grape concentrates are used, ensuring a smooth and delicious wine every time.
Complete Packages: Each kit comes with everything you need - from yeast to stabilizer and finings.
Easy to Use: Designed to simplify the winemaking process, Magnum wine kits make it easy for anyone to produce 30 bottles of their own wine.
Affordability: A popular choice for those looking to create quality wine without breaking the bank.
What's Included?
Grape concentrate of your chosen variety
A set of sachets containing yeast, yeast nutrient, stabilizer, and finings
Comprehensive instructions to guide you through the process
Note: Each kit requires the addition of 3.5kg of sugar
Long-Established Reputation
Trusted by winemakers for years, Magnum's homemade wine kits are synonymous with quality and consistency. The brand's focus on utilizing high-quality Italian grape concentrate has made it a favourite among homebrewers looking for an affordable yet premium winemaking experience.