WE HAVE OVER 1900 PRODUCTS ON OUR SITE! SEARCH FOR YOUR PRODUCT HERE:
Magnum Wine Kits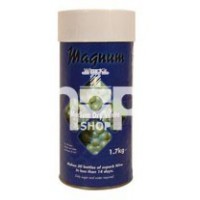 Each kit makes 30 bottles, needs the addition of 3.5kg of sugar, and comes complete with a set of sachets containing the yeast, yeast nutrient, stabiliser and finings.
This long established brand of wine kit has been sold in large quantities for years and is known for its high quality Italian grape concentrate.