WE HAVE OVER 1900 PRODUCTS ON OUR SITE! SEARCH FOR YOUR PRODUCT HERE:
Festival Beer Kits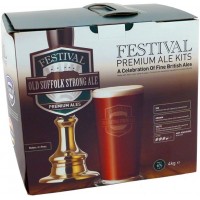 Festival kits are amongst the finest beers under the sun.
Each kit contains only the best quality ingredients & requires no additional sugars.
Each style contains at least 3kgs of finest malt extract and genuine brewers yeast to suit the style, hop pellets and priming sugar.
The hop pellets are simply added halfway through the fermentation infusing flavour & aroma.
The precisely measured priming sugar ensures the right amount of carbonation is achieved for the style of brew.
The easy to follow step-by-step instructions (each kit makes 40 pints) make Festival Premium Beer Kits the UK's most comprehensive and complete premium liquid malt extract beer kit ever produced.