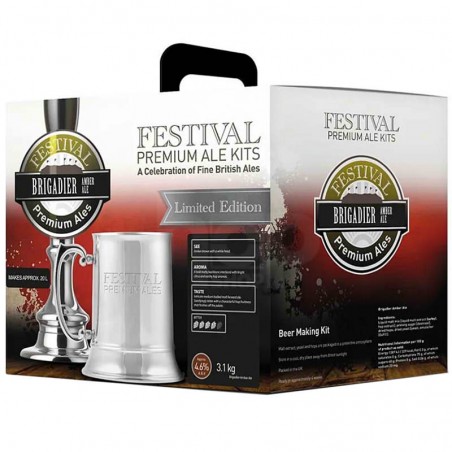  
Festival - Brigadier Amber Ale - Beer Kit of Brittania!
Festival Brigadier Amber Ale: Limited Edition
Venture further into the art of home brewing with the Festival Brigadier Amber Ale Beer Kit. A proud member of the Festival's Limited Edition series, this beer making kit is inspired by the iconic Bombardier Amber Ale, inviting you to embrace the spirit of British beer excellence.
---
A Rich Tapestry of Flavours in a Craft Beer Kit
The Brigadier Amber Ale homebrew kit is an intricate flavour adventure. Its bold malty backbone interlaces with bright citrus and earthy hop aromas, presenting an amber ale that's hard to resist. The taste is a gratifying mix of satisfying bitterness and characterful hop fruitiness, making every sip a memorable experience.
---
Product Specifications
Appearance: Amber-brown Ale with a white head
Approximate ABV: 4.6%
Bitterness: 4/5
Yield: 20 litres (35 Pints)
Hops: Fuggle (14g) & Centennial hops (14g)
Extras: Dextrose priming sugar (100g)
---
Festival Home Brew Beer Kits: Your Launchpad to Craft Brewing
Whether you're new to the world of home brewing or already deep into your craft beer exploration, Festival Home Brew Beer Kits are designed for an effortless brewing experience. With no additional sugar required, just add water and follow the user-friendly, step-by-step instructions included in each Festival Premium Ale Beer Kit.
*For a commercial-style finish to your beer, we suggest adding Pure Brew - a professional yeast nutrient and water treatment.
Only users who already bought the product can add review.