WE HAVE OVER 1900 PRODUCTS ON OUR SITE! SEARCH FOR YOUR PRODUCT HERE:
Winexpert LE23 Wine Kits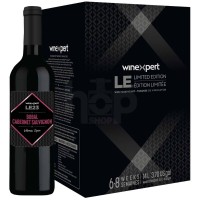 Winexpert 2023 - Limited Edition Wine Kits
Every year this premium producer adds temporarily to its range some Limited Editions to reflect current trends or special varietals, LE23 that they have trialled with substantial success.
These then feature a limited number of outstanding unique varieties from around the world that are released annually from March through June.
These special wines are only available during their month of release and are immensely popular, so pre-ordering is strongly advised.
All the wines in this range make 23 litres (30 bottles).
All these kits will produce an excellent wine of commercial quality, perfect for special occasions.