WE HAVE OVER 1900 PRODUCTS ON OUR SITE! SEARCH FOR YOUR PRODUCT HERE:
Home Brew Equipment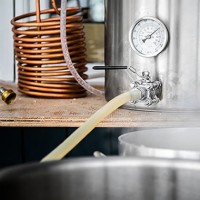 Make Your Own Beer, Wine, and Cider at Home
Welcome to our Home Brew Equipment collection, where we provide everything you need to make your own beer, wine, and cider at home.
Our extensive range of products is designed to meet all your brewing needs, from barrels and bottles to corks and caps.
We understand that home brewing is more than just a hobby; it's a passion.
That's why we offer a huge selection of equipment from a wide range of manufacturers, so you can get the best products to match your brewing style.
Whether you're a seasoned brewer or just starting, we have the equipment to help you make the perfect brew every time.
Our range includes syphons, filters, preserving jars, alcohol meters, and much more, all designed to make the brewing process as smooth and efficient as possible.
Plus, our knowledgeable staff is always on hand to provide expert advice and answer any questions you may have.
So, why wait? Start brewing your own beer, wine, or cider today with our high-quality home brew equipment.
With our huge selection of products, competitive prices, and expert advice, we're confident you'll be able to craft the perfect brew in no time.