WE HAVE OVER 1900 PRODUCTS ON OUR SITE! SEARCH FOR YOUR PRODUCT HERE:
St Peter's Homebrew Beer Kits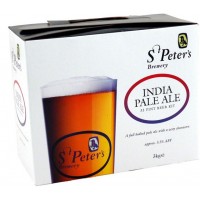 From St. Peter's craft brewery, comes a variety of distinctive beers.
St. Peter's is an independent brewery founded in 1996 by John Murphy in former agricultural buildings adjacent to St. Peter's Hall in Bungay, Suffolk.
It boasts the finest quality traditional & specialty beers and ales brewed in the heart of the countryside.
The range has been produced in close conjunction with the Head brewer & with 3kgs of malt extract no additional sugar is required.