WE HAVE OVER 1900 PRODUCTS ON OUR SITE! SEARCH FOR YOUR PRODUCT HERE:
Lager and Pilsners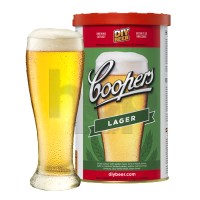 Make Your Own Lager Beer at Home with Pilsner & Lager Brew Kits
Look no further than our collection of Pilsner & Lager Brew Kits! Our selection includes some of the best lager home brew kits available, including popular brands like Coopers, Geordie, and Muntons.
Each beer brewing kit includes a tin of hopped malt extract and yeast, with premium options also including additional malt extract, sugars, and hops. With easy-to-follow instructions, even beginners can successfully brew their own lager with these kits.
To get started, you'll need basic brewing equipment like a fermenter, airlock, thermometer, and hydrometer. Once you have your equipment, simply pour the contents of the beer kit into your fermenter, mix with 2 litres of hot water, and top up with cold water to reach 23 litres. Sprinkle on the yeast and let the fermentation process begin!
In just two weeks, your lager will be ready to bottle or keg. For best results, allow your beer to condition for an additional two weeks. With our Pilsner & Lager Brew Kits, you can enjoy delicious, high-quality lager beer right from the comfort of your own home.
Choosing the best lager beer kit or best pilsner homebrew kit comes down to personal taste, we always suggest trying different beer brewing kits to find the one that suits your taste. If you are looking for a recommendation for first-time buyers, then we suggest Muntons Gold Continental Pilsner. This brewing kit embodies the full character of European lager-style beers – light and delicate, yet richly satisfying.
Looking for the best lager beer kit or pilsner lager beer kit? Look no further than our selection of pilsner lager beer kits & Lager Brew Kits. With options like Coopers European Lager, Geordie Lager, and Muntons Connoisseur range, you're sure to find the perfect kit for your tastes.