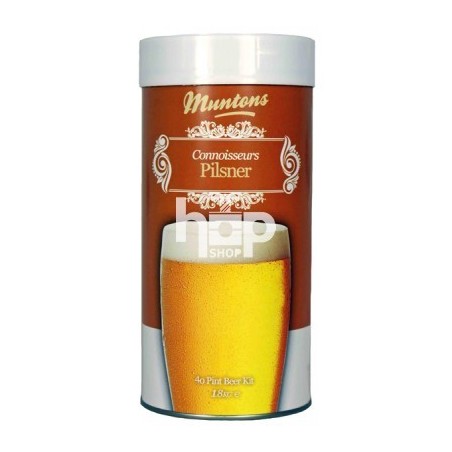  
Muntons Connoisseur Pilsner Beer Kit
Muntons Connoisseur Pilsner produces a light, refreshing, thirst-quenching beer popularized in warm climates.
Muntons Pilsner is the lightest beer in the Connoisseurs range.
ABV Approx: 4.6% | Colour: Light Pale Yellow
---
Muntons Pilsner beer kit produces up to 40 pints and requires the addition of 1 kg brewing sugar.
If you are looking to experience a beer with better flavour, body, head retention and mouthfeel.
Then we recommend swapping out the sugar for Beer Enhancer or Liquid Beer Kit Enhancer 1.
---
Muntons Connoisseurs range offers the home beer-maker the chance to make premium strength beers for excellent value.
Each Beer kit contains 1.8 kg of 100% hopped liquid malt extract, emulating beer styles from around the world.
Only users who already bought the product can add review.