WE HAVE OVER 1900 PRODUCTS ON OUR SITE! SEARCH FOR YOUR PRODUCT HERE:
White Wine Kits - 30 Bottle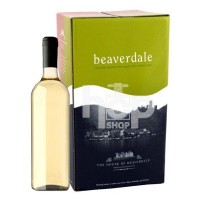 Discover the Finest White Wine Kits for Crafting Your Own Exquisite Wines
Welcome to our collection of premium white wine kits, the ultimate destination for wine enthusiasts seeking the perfect winemaking experience. Our 30 bottle white wine kits are meticulously crafted to deliver the highest quality wines right in the comfort of your home. With a wide selection of top-notch brands like Winexpert, Beaverdale, Vineco, Cellar 7, On the House, and Solomon Grundy, we offer an unparalleled range of options for both beginners and seasoned winemakers.
---
Unveiling the Best White Wine Kits for Enthusiasts
At The Hop Shop, we take immense pride in curating the best white wine kits available. Our collection showcases a diverse range of kits designed to cater to your unique preferences and winemaking aspirations. From the novice seeking a simple yet rewarding winemaking experience to the connoisseur looking to create exceptional, handcrafted wines, we have the perfect kit to suit every palate.
---
The Finest Selection of 30 Bottle White Wine Kits
Our collection features an impressive variety of 30 bottle white wine kits, ensuring that you have an ample supply of your favourite wines for all occasions. Whether you're hosting a special celebration or simply enjoying a relaxing evening at home, our kits provide an excellent opportunity to stock your wine cellar with a wide assortment of exceptional white wines. Experience the joy of crafting your own high-quality wines, personalized to suit your taste preferences.
---
Craftsmanship and Quality Ingredients
Crafting exceptional wines begins with the finest ingredients, and we spare no effort in sourcing premium materials for our kits. Each white wine kit contains carefully selected grape juice concentrates or fresh grapes, ensuring an authentic and remarkable winemaking experience. We prioritize quality at every step, allowing you to savour the true flavours and aromas of the grape varietals you choose.
---
Embrace the Art of Winemaking
Whether you're a passionate beginner or an experienced vintner, our white wine kits empower you to embark on an incredible winemaking journey. With our easy-to-follow instructions and user-friendly kits, the process becomes an enjoyable and fulfilling endeavour. Unleash your creativity by customizing sweetness levels, experimenting with fermentation techniques, and exploring the art of blending to create wines that reflect your unique style and taste.
---
Uncovering the Best Wine Kits in the UK
We take pride in offering the best wine kits in the UK, carefully selected to meet the discerning tastes of wine enthusiasts like yourself. Our collection comprises top-rated brands known for their commitment to excellence and innovation. Experience the satisfaction of producing outstanding wines that rival those from renowned vineyards, right in the comfort of your own home.
---
Beyond White Wines
While our collection focuses on exceptional white wine kits, we also offer a diverse range of options for red wine enthusiasts. Explore our selection of red wine kits to broaden your winemaking horizons and discover new flavours that captivate your senses.
---
Elevate Your Winemaking Experience
Indulge in the ultimate winemaking adventure with our exceptional white wine kits. Unleash your creativity, experiment with flavours, and produce remarkable wines that impress even the most discerning wine enthusiasts. Start your winemaking journey today and experience the satisfaction of crafting your own exquisite white wines.