WE HAVE OVER 1900 PRODUCTS ON OUR SITE! SEARCH FOR YOUR PRODUCT HERE:
Bulldog Brew Kits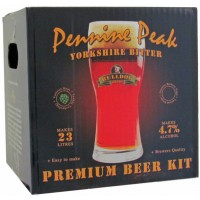 More malt extract, varietal yeasts, varietal finishing hops.
Bulldog Brews use up to a third more malts and extracts than most beer kits to significantly raise the quality of the beers produced.
They take the established traditional quality and then add the latest brewing technology to give the best possible quality home brew beermaking experience.
As these are premium kits, you will of course not need to add any sugar when you start your fermentation.
They contain pouch technology (no metal cans anywhere).
Different weights are used for different kits in the range with specific hops sachets & dedicated double quantity heavily flocculating yeasts.