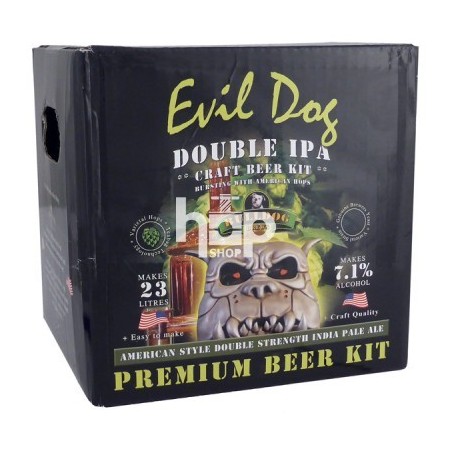  
Bulldog Brews - Evil Dog - Double IPA Beer Kit
---
Bulldog Beer Kit - Evil Dog American Double IPA
---
This premium home brew kit has been created around a powerful dose of the American Simcoe and Summit hop varieties.
These punchy hops in combination with the popular US West Coast beer yeast will produce a true craft beer experience.
Bursting with hops, 4.7Kgs of malt extracts & made with special craft yeast to produce a beer full of potency with 7.1% ABV approx.
---
Bulldog Evil Dog American Double IPA is bursting with aromas of pine and grapefruit, with a strong bitterness, typical for this style.
Colour: 12-17 EBC | Bitterness: 40-45 EBU | Hops: Summit & Simcoe
---
Bulldog Brew Kits use up to a third more malts and extracts than most beer kits to significantly raise the quality of the beers produced.
They take the established traditional quality and then add the latest brewing technology to give the best possible quality home brew beer making experience.
Only users who already bought the product can add review.