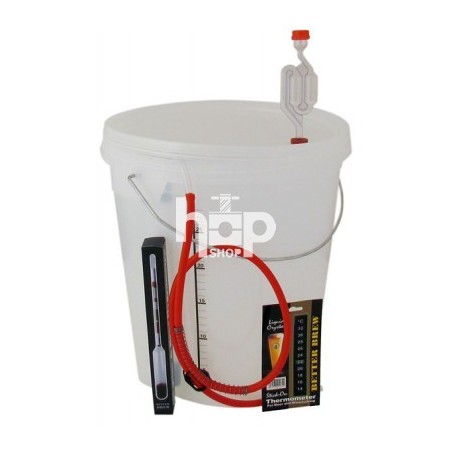  
Homebrew Essential Starter Kit for Beer/Cider/Wine Making
Making beer/lager/cider is not difficult.
All you need is your initial equipment & to follow the instructions from the kit or recipe of your choice.
In any event we are here online to assist all the way.
With practice comes proficiency & good quality beverages will be being made in no time at all.
This particular item comes neatly boxed & consists of:
1. A 25 litre fermenting bucket with volume scale.
2. Lid with aperture for grommet.
3. An airlock for the grommet.
4. A beer / wine beer hydrometer.
5. Syphon tubing with sediment trap & in line tap.
6. A self adhesive liquid crystal thermometer.
7. Mixing paddle / Spoon
8. Tub of steriliser.
Feel free to ask for our A4 sheet of precise brewing instructions specifiying whether you prefer to barrel or bottle.
All the items in this pack can be used to make either beer/cider or wine but both will require some additional items.
In the case of beer/lager/cider:
1. a style of beer, lager or cider kit.
2. a means of maturing &/or dispensing - a barrel or bottles.
An ideal gift.
In the case of wine, please see the wine section.
Only users who already bought the product can add review.