WE HAVE OVER 1900 PRODUCTS ON OUR SITE! SEARCH FOR YOUR PRODUCT HERE:
Woodfordes Beer Kits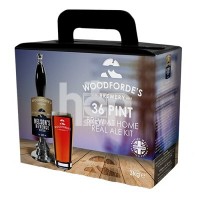 Woodfordes - Brewery - Beer Kits
Woodfordes Beer Kits are the epitome of English craft beer kits, hailing from the renowned Woodfordes Brewery located in Woodbastwick, near Norwich, Norfolk in the UK.
This award-winning brewery has gained fame for producing traditional English cask ales and bottled beers, with the Woodfordes Wherry Beer Kit being a flagship beer of choice for many.
Thanks to the Woodfordes Brewery, it is now possible for homebrewers to enjoy the exquisite taste of their beers in the comfort of their own homes, with their extract beer kits.
Each real ale brewing kit provides all the ingredients needed to brew top-quality beer, including hopped malt extract, yeast, and instructions.
Brewing beer from a kit has never been easier and we recommend a Woodfordes Homebrew kit to anyone new to the hobby.
You will only need basic homebrewing equipment, bottles, or a keg to begin your journey into the world of craft beer.
No matter which complete home brew kit you choose, you can trust that Woodfordes has a reputation for quality and consistency.
The Woodfordes Admiral Beer Kit, for example, is perfect for those who enjoy a hoppy, bitter beer.
And for those seeking a darker, more robust flavor, the Nelson's Revenge Beer Kit is a great choice.
Get started today and experience the amazing taste of a true English ales.