WE HAVE OVER 1900 PRODUCTS ON OUR SITE! SEARCH FOR YOUR PRODUCT HERE:
Winexpert Reserve Wine Kits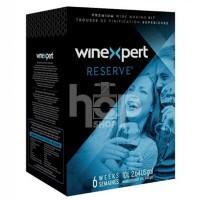 Discover the Best Wine Kits with Winexpert
Looking for the perfect wine kit to satisfy your discerning tastes? Look no further than Winexpert Reserve wine kits. With exceptional body, flavor, and aroma, these premium kits are crafted from the finest grape juices from the world's most sought-after grape-growing regions. From a supple, buttery Chardonnay to a confident, full-bodied Cabernet Sauvignon, Winexpert Reserve wine kits offer outstanding styles and outstanding wines.
If you are looking for an approachable and easy-drinking wine, try Winexpert Classic, perfect for any event or occasion. Or explore the world's most distinguished wine-growing regions with Winexpert Limited Edition wine kits, available by reservation only.
For those seeking the very best, Winexpert Private Reserve 30-bottle wine kits truly deliver. Made from the finest varietal juices from regions like Piedmont and Stag's Leap District, these kits offer the highest level of craftsmanship and satisfaction. And with clear instructions and expert support, making your own homemade wine has never been easier.
How Long Does Winexpert Last?
So, how long does Winexpert last? With proper storage and care, your Winexpert wine can last for several years, though many wines are best consumed within a year or two of bottling.
Get Started with Winexpert Today
Ready to get started? Making homemade wine from a kit is easy with Winexpert. Simply follow the instructions provided with your kit, which will typically involve mixing the juice with water, adding yeast and other ingredients, and allowing the wine to ferment for several weeks. Then, bottle and age your wine to your desired taste. It's that simple!
Discover the best wine kits available in the UK and elevate your home winemaking with Winexpert. Try Winexpert Reserve wine kits and see why they're the top choice for wine enthusiasts everywhere.