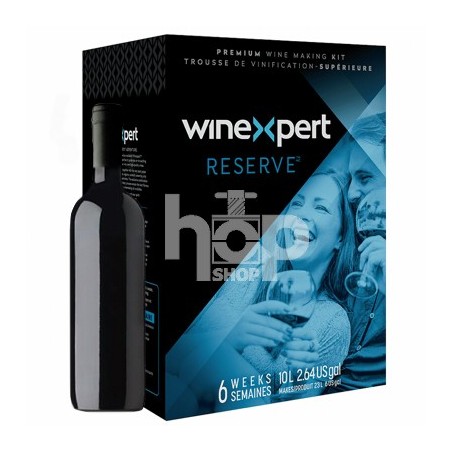  
Winexpert Reserve - Pinot Noir, Chile
Winexpert Reserve Pinot Noir Wine Kit - Craft Your Own Chilean Masterpiece
Create up to 30 bottles of exceptional homemade wine with the Winexpert Reserve Pinot Noir Wine Kit.
This Chilean Pinot Noir showcases a bright ruby color and delicate aromas that hint at the wonderful red berry flavors within.
The Winexpert Reserve Pinot Noir reveals notes of black raspberry, red cherry, and earthy nuances.
---
Product Specifications
Sweetness: Dry
Oak: Medium
Body: Medium
ABV: Approx. 13%
Yield: 23L (30 Bottles)
Region: Chile
Ready In: 4 - 6 weeks
---
What's Included in the Kit?
Dedicated Yeast
10L of Grape Juice Concentrate
Clarifiers and Stabilizers
Step-by-step Instructions
No additional sugar is required for this kit, but you will need fermentation equipment, corks, and bottles.
---
Winexpert Reserve Wine Kits - Elevate Your Winemaking
As part of Winexpert's Reserve range, this kit includes 10 liters of the finest varietal juices sourced from the world's most sought-after grape-growing regions.
Winexpert Reserve wine kits enable you to craft exceptional wines with remarkable body, flavor, and aroma in just 6 weeks.
Elevate your wine collection with the Winexpert Reserve Pinot Noir Wine Kit, and savor the excellence of homemade premium wine.
Only users who already bought the product can add review.