WE HAVE OVER 1900 PRODUCTS ON OUR SITE! SEARCH FOR YOUR PRODUCT HERE:
Cellar 7 Wine Kits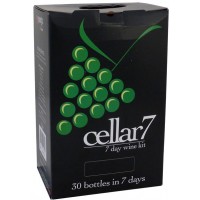 Cellar 7 Wines
Designed to produce an acceptable wine in the shortest possible time.
Ideal for those just starting or who have no stocks.
Cellar 7 wine kits are created from the finest European grape concentrates.
With the producers' many years of expertise, they have put together some of the most popular styles available, bringing the whole winemaking experience direct into your home.
All the kits in this range are sugar included.
The only additional ingredient needed will be water and the 5 gallons (30 bottles) of wine should be ready to drink in only 7 days, but will rapidly improve with age.
Our Cellar 7 Pinot Grigio and Cellar 7 Merlot Blush are some of our best-selling wine kits.