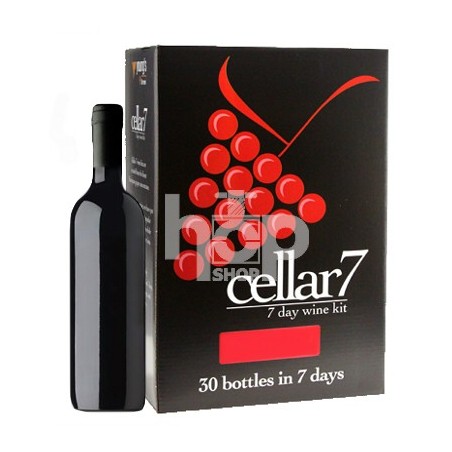  
Cellar 7 - Italian Red - 30 Bottle Wine Kit
Cellar 7 Italian Red Wine Kit
Cellar 7 Italian Red is a beginner-friendly wine making kit that produces up to 30 bottles of homemade wine in just 7-10 days.
With no sugar required, this Italian Red wine kit is an effortless way to create a flavorful and highly drinkable wine quickly.
The Cellar 7 Italian Red Wine Kit produces a medium-bodied wine with a delightful and fresh bouquet, including notes of dark cherry and plum.
It's very easy on the palate thanks to its light tannins and smooth finish, making it a perfect choice for those who prefer their wines without any overwhelming or overpowering flavours.
---
Cellar 7 Wine Kits
Cellar 7 Wine Kits are designed to offer convenience and affordability without compromising quality.
Each kit comes with 5 litres of European grape concentrate, all the necessary ingredients, and easy-to-follow instructions for hassle-free winemaking.
With the producers' years of expertise, they've curated some of the most popular wine styles available, offering great value for money with every kit.
It's perfect for those hosting parties or events, as its quick turnaround time makes it a crowd favourite.
If you're willing to be patient and let the wine mature for a couple of months, you'll notice a significant depth of flavour that only improves with time.
To get you started, all you need is some basic home brew equipment and bottles.
Impress your friends and family with a delicious, homemade Italian red wine from the Cellar 7 Wine Kit.
Don't miss out on this opportunity to enjoy exceptional quality wine at an affordable price.
Only users who already bought the product can add review.