WE HAVE OVER 1900 PRODUCTS ON OUR SITE! SEARCH FOR YOUR PRODUCT HERE:
Coopers Beer Kits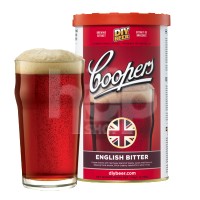 Coopers Home Brew Beer Kits
Whether you're a seasoned homebrewer or just starting out, Coopers beer kits are a convenient and affordable way to brew your own beer at home. With a wide range of beer styles to choose from, you're sure to find a kit that suits your tastes.
What Comes in a Coopers Beer Kit?
Each Coopers beer kit includes 1.5kg of hopped malt extract and yeast. Simply follow the home brew kit instructions, adding sugar and water to create a delicious brew. You can produce up to 40 pints of beer with a Coopers beer kit, however certain styles of beer may require you to make less.
How Much Sugar Do You Add to Coopers Home Brew?
Each Coopers home brew kit requires adding 1 kg of brewing sugar during the fermentation process to provide the yeast with additional fermentable sugars to produce alcohol. However, for a more complex and flavourful beer, we suggest using a malt extract or beer enhancer instead of sugar. You will also need a small amount of sugar when carbonating your beer in a barrel (approximately 70g). Alternatively, if you are looking to bottle your beer, we suggest using Coopers carbonation drops to provide a consistent level of carbonation.
What Is the Alcohol Content of Coopers Home Brew?
The alcohol content can vary depending on the beer kit, as well as the fermentation and conditioning process. However, most Coopers beer kits will produce beer with an alcohol content ranging from 4% to 6% ABV (alcohol by volume).
Are Beer Making Kits Worth It?
It all depends on your personal preferences and goals. For those just starting out with homebrewing or looking for a convenient and affordable way to make beer at home, beer making kits like Coopers can be a great option. With clear home brew kit instructions and all the necessary ingredients included, you can easily brew your own beer at home. However, more experienced homebrewers may prefer to source their own ingredients and equipment separately to achieve the best possible results.