WE HAVE OVER 1900 PRODUCTS ON OUR SITE! SEARCH FOR YOUR PRODUCT HERE:
Beaverdale Wine Kits - 6 Bottle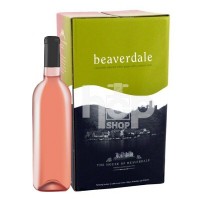 Beaverdale 6 Bottle Wine Kits: The Homebrewers' Delight
When it comes to creating high-quality, delicious wine right in your own home, nothing compares to the ease and excellence of Beaverdale 6 bottle wine kits. Crafted with the passionate home winemaker in mind, these premium kits provide everything you need to transform simple water into an array of sumptuous wines.
The Unparalleled Beaverdale Quality
Beaverdale wine kits stand apart in their quality and consistency, assuring you a wine-making experience that's as rewarding as it is enjoyable. Each wine making kit is meticulously designed and assembled, ensuring that you receive a top-notch product that's easy to use and guarantees superb results.
Top Flavors for Every Wine Lover
The extensive range of flavors offered by Beaverdale allows you to explore your palate and create wines that cater to your personal preferences. With options ranging from the deep, complex notes of Cabernet Sauvignon and Merlot to the crisp, fresh bouquets of Sauvignon Blanc and Chardonnay, you'll find a wine kit that's just right for you.
Making Your Own Wine is Easier Than Ever
Making your own wine is a rewarding experience that's made even easier with Beaverdale. Each of our 6 bottle wine making kits comes with all the necessary ingredients - simply add water as per the provided Beaverdale wine kit instructions, and you're on your way to creating your own fine wine. The fermentation process typically takes a few weeks, and once that's done, it's all about bottling and allowing the wine to age, further enhancing its flavors and body.
Find Your Perfect Beaverdale Wine Kit Today
Whether you're new to the world of homebrewing or an experienced winemaker looking for convenience without compromising on quality, the Beaverdale 4.5L wine kits are a fantastic choice. And if you're interested in larger batches, don't forget to check out our Beaverdale wine kits 30 bottle collection. Embrace the winemaker within you and discover the delightful world of Beaverdale wines.