WE HAVE OVER 1900 PRODUCTS ON OUR SITE! SEARCH FOR YOUR PRODUCT HERE:
On The House Wine Kits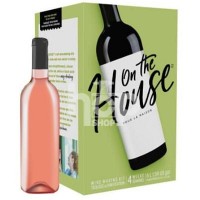 House Style wine making kits are easier to make than ever before and even easier to enjoy!
On The House is a newer range within the home brew industry, but has many similarities to the favourable Beaverdale Wine Kits.
This range of kits contains quality juice concentrate that will yield approximately 28 to 30 bottles of finished wine.
Ready in 4 weeks, this kit includes the juice concentrate, yeast, stabilizers, clarifying agents, flavour pack and a full set of instructions.