WE HAVE OVER 1900 PRODUCTS ON OUR SITE! SEARCH FOR YOUR PRODUCT HERE:
On The House Wine Kits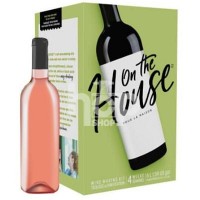 Discover the Art of Winemaking With On The House Wine Kits
Whether you're a budding winemaker or an experienced vintner, we invite you to explore the enriching journey of home winemaking with On The House Wine Kits. These comprehensive kits are your passport to crafting delicious wine from the comfort of your own kitchen, embodying a range of styles from vibrant reds to crisp whites and delightful blushes.
Experience the Joy of Crafting Your Own Wine
Crafting wine at home is not just about the end product but also the journey. Each On The House Wine Kit comes packed with all the necessary ingredients and easy-to-follow instructions, allowing you to dive into the fascinating world of winemaking at your own pace.
Premium Wine in Just 4 Weeks
On The House Wine Kits are designed for efficiency without compromising on quality. You'll be amazed by the results when you uncork your very own bottle of wine in just four short weeks. Each wine making kit yields 30 bottles, transforming your winemaking dream into a rewarding reality.
A World of Wine Flavors at Your Fingertips
From the bright notes of Pinot Grigio to the rich depth of Cabernet Sauvignon, these kits offer an impressive array of options to suit all palates. Each kit includes grape juice concentrates, yeast, and other essential additives needed to create your very own bottle of wine.
Quality Winemaking Made Affordable
Explore the art of winemaking without the hefty price tag. On The House Wine Kits provide an outstanding value, enabling you to dive into the world of wine without breaking the bank.
Get Started on Your Winemaking Journey
With straightforward instructions included in each wine kit, you'll find the process of winemaking surprisingly accessible, no matter your level of experience. With On The House Wine Kits, you have everything you need to embark on your winemaking journey.
Experience the Satisfaction of Home Winemaking
There's a unique satisfaction that comes from uncorking a bottle of wine that you've made yourself. Embrace the art of winemaking, and discover the pleasure of crafting your own wine. Begin your journey today with On The House Wine Kits, and start creating your perfect bottle of wine.