WE HAVE OVER 1900 PRODUCTS ON OUR SITE! SEARCH FOR YOUR PRODUCT HERE:
John Bull Beer Kits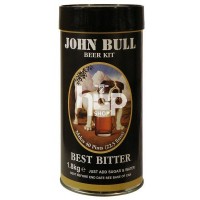 John Bull Homebrew Beer Kits
John Bull Beer Kits could be the best value beer kit available for the amount of malt extract you receive.
Each beer brewing kit contains 1.8 kg of high-quality malt extract with simple beer making instructions.
John Bull home brew kits are a good start for beginners looking to dip their toes into home brewing.
With a Youngs John Bull kit, you can craft up to 40 pints of classic, home brew real ale all in the comfort of your own home.
---
John Bull is an easy beer kit to make and all you will need is some basic homebrew equipment & 1kg of brewing sugar.
If you are looking to experience a rich beer with better flavour, body, head retention and mouthfeel.
Then we recommend swapping out the 1kg brewing sugar for a beer enhancer, liquid or dried malt extract.