WE HAVE OVER 1900 PRODUCTS ON OUR SITE! SEARCH FOR YOUR PRODUCT HERE:
Muntons Beer Kits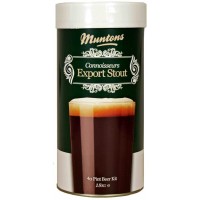 Muntons have become a leading supplier of brewing and distilling malts and malted ingredients to the food & drinks industry worldwide.
Muntons Flagship
Muntons flagship beer kits use only the finest ingredients including Muntons high-quality malt extract, premium hop pellets and Fermentis yeast, allowing you to brew 35 pints of carefully engineered craft beer at home.
Muntons Connoisseurs Beer Kits
Muntons Connoisseurs beer kits brings together an uncompromising blend of quality ingredients designed to brew truly exceptional beers.
Muntons Gold
The Muntons Gold range was developed to introduce all malt recipe beer kits to home beer makers looking to brew top quality traditional beer styles from convenient kits.
Muntons Hand Crafted
Muntons Hand Crafted kits are top of the range when it comes to delivering a quality brew. Each kit contains uniquely developed and individually canned extracts of the best brewing malts and finest choice hops.