WE HAVE OVER 1900 PRODUCTS ON OUR SITE! SEARCH FOR YOUR PRODUCT HERE:
Dark and Amber Ales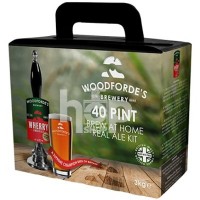 The longer the malts are caramelized, the darker

 they'll get.
All caramel malts contain also non-fermentable sugars, which will add flavour but not potential alcohol.
The 

darker

 the malts used, or the more pale malts used (the colour builds, making the aggregate colour 

darker

), the 

darker

 the 

beer

 will be.
Amber ale
Brewed with a proportion of amber malt and sometimes crystal malt to produce an amber colour generally ranging from light copper to light brown.
A small amount of crystal or other coloured malt is added to the basic pale ale base to produce a slightly darker colour, as in some Irish and British pale ales.
In France the term "ambrée" is used to signify a beer, either cold or warm fermented, which is amber in colour; the beer, as in Pelforth Ambrée and Fischer Amber, may be a Vienna lager, or it may be a Bière de Garde as in Jenlain Ambrée.
In North America, American-variety hops are used in varying degrees of bitterness, although very few examples are particularly hoppy.
Diacetyl is barely perceived or is absent in an amber ale.