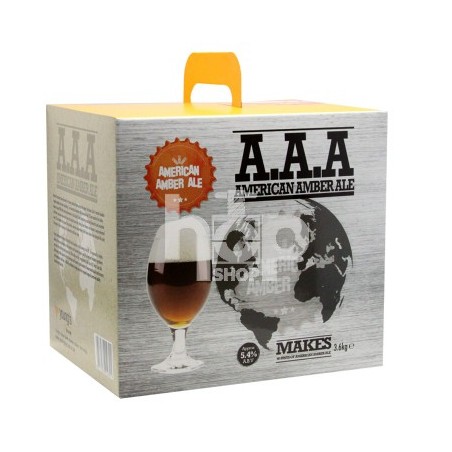  
Youngs - American Amber Ale - Beer kit
Young's A.A.A (American Amber Ale)
Youngs American Amber Ale is an all-inclusive real ale brewing kit that produces up to 40 pints of home brew beer at approx 5.4% ABV.
This real ale home brew kit requires no additional sugar, all you will just need is some basic equipment and bottles or a keg.
---
Beer Profile
Youngs Amber Ale pours a fantastic amber hue with a rocky off-white head, hop character oozes from the glass.
Summit, Cluster and Pacific Gem Hops give you a heady mix of spicy black currants, pine sap and grapefruit.
On the palate, this beer shows its mettle, effortlessly melding the juicy caramel and toffee malt characters with complex hop flavour.
---
Young's American Beers Kits
Young's Premium 40-pint ale kits have been developed to bring the best of American craft philosophy to the UK.
This American Amber Ale beer kit is ready in only 21-28 days, depending on fermenting & conditioning temperatures. 
Only users who already bought the product can add review.