WE HAVE OVER 1900 PRODUCTS ON OUR SITE! SEARCH FOR YOUR PRODUCT HERE:
Mangrove Jack's Beer Kits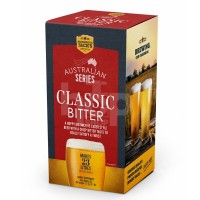 Mangrove Jack's Beer Kits: Brewing Perfected
Mangrove Jack's Craft Series beer kits redefine homebrewing by embracing the latest techniques and flavours.
Inside these kits, you'll find two compartments, one side holds hopped malt extract, nitrogen-flushed and cold-filled to preserve its exquisite taste.
The other side contains instructions, a specially chosen Craft Series Yeast strain perfectly matched to the beer style.
With some kits, a sachet of aromatic dry hops to infuse an extra layer of flavour and aroma.
Brew with confidence, knowing you're using pre-measured ingredients and easy-to-follow instructions that make crafting beer as enjoyable as savouring it.
---
Mangrove Jack's Brewer's Series are home brew beer kits that create the most popular classic beer styles with none of the guesswork, using tried and tested recipes.