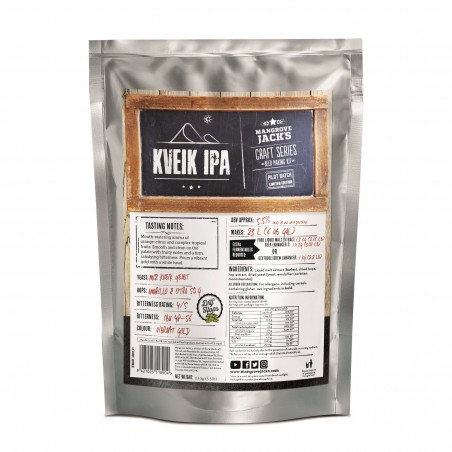  
Mangrove Jack's - Kveik IPA Beer Kit
Mangrove Jack's Craft Series Kveik IPA
Take home brewing to new heights with the Mangrove Jacks Kveik IPA Beer Kit.
This premium kit empowers you to create your very own vibrant gold India Pale Ale, bursting with the tantalizing aroma of orange citrus and tropical fruits.
Each sip of your homemade beer promises a smooth and clean palate, firm bitterness, and rich fruity notes - a truly rewarding and unique beer brewing experience that puts you in control.
Complete with detailed instructions, hop pellets, premium yeast, and 1.8 kg of liquid malt extract, this IPA home brew kit enables you to produce up to 40 pints.
To make this kit all you need is some basic homebrewing equipment and to add 1 kg of brewing sugar.
For a richer flavour profile, consider replacing the sugar with 1.2 kg of Pure Liquid Malt Extract or Liquid Beer Enhancer 2.
---
Specifications:
ABV Approx: 5.6%
IBU: 48-56
Bitterness: 4/5
Colour: Vibrant Gold
Yeast: M12 Kveik 10g
Hops: Amarillo 50g & Citra 50g
Makes: 23L / 40 pints
Additional Requirement: 1 kg Brewing Sugar
---
Mangrove Jack's Beer Kits
The Kveik IPA Beer Kit is a prized part of the esteemed Mangrove Jack's Craft Series, showcasing the innovative and quality brewing that Mangrove Jack's is renowned for.
With its unique M12 Kveik yeast, this kit is so impressive it could become a permanent fixture in the Craft Series range, based on popularity.
Seize this opportunity to relish the satisfaction of brewing your own IPA with Mangrove Jack's. Experience the pleasure of crafting your very own beer today!
Only users who already bought the product can add review.