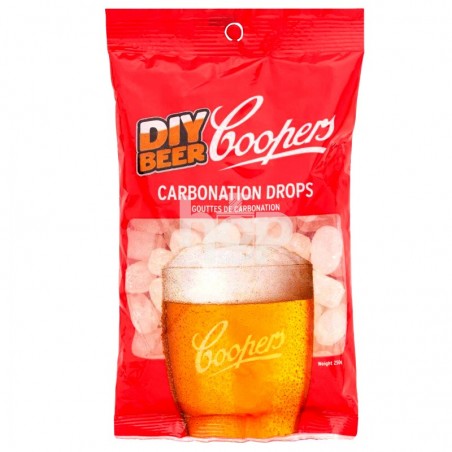  
Coopers Carbonation Drops
Carbonation Drops
Carbonation drops are a convenient, easy-to-use alternative to priming sugar.
These small sugar-based candies are added to the beer or cider during bottling to increase carbonation.
Carbonation drops are a type of carbonation aid used for home brewing beer, other methods are priming sugar or forced carbonation.
---
How to use carbonation drops?
Simply add one drop per 500ml bottle, after the beverage is bottled leave the bottles at room temperature for 2 - 7 days.
This essential step allows the sugar to dissolve (carbonate) the bottle, and afterwards move the bottles somewhere cold like a fridge.
---
Ingredients: Sucrose, Glucose 
Approx. 80 per bag
Only users who already bought the product can add review.