WE HAVE OVER 1900 PRODUCTS ON OUR SITE! SEARCH FOR YOUR PRODUCT HERE:
Beer Ingredients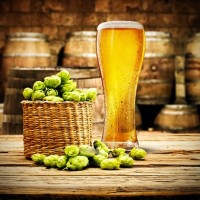 Beer Brewing Ingredients: Crafting Exceptional Homebrew Beer
When it comes to crafting your own beer from scratch, the quality of your brewing ingredients makes all the difference.
At The Hop Shop, we are passionate about homebrewing, and we've carefully curated a selection of beer brewing ingredients that meet the highest standards.
Whether you're a seasoned brew master or just starting your brewing journey, we have everything you need to create exceptional homebrew beer with premium malts, hops, and yeast.
Our beer brewing ingredients are sourced from the finest suppliers, both locally and internationally, ensuring that you have access to the best ingredients for your brews.
We take pride in offering a wide range of homebrew supplies and all-grain beer brewing ingredients, making us your one-stop shop for all your brewing needs.
Creating Unique Brews: Showcasing Specific Ingredients
Brewing your beer from scratch opens up a world of possibilities for crafting unique brews with distinctive flavors. To help you in this creative journey, we offer a diverse selection of brewing ingredients that will elevate your beer game. Whether you're looking for the perfect malt to add depth to your stout or unique hops to infuse a floral aroma into your pale ale, we have you covered.
Our inventory includes a comprehensive brew ingredients list, featuring premium malts, aromatic hops, and specialized yeast strains. We understand that every brewer has their own vision, and that's why we stock a wide variety of ingredients to cater to your individual tastes and preferences. With our top-quality brew ingredients, you can experiment, innovate, and craft brews that are truly one-of-a-kind.
For Home Brewers Seeking Excellence
Are you a home brewer looking for brewing ingredients that will take your creations to the next level? Look no further. Our commitment to quality means that we provide ingredients that even the most discerning brewers would approve. Whether you're aiming for a classic beer style or pushing the boundaries of craft brewing, our brew ingredients will be your trusted companions on your brewing journey.
Conclusion: Your Source for Premium Brew Ingredients
In summary, brewing exceptional beer starts with exceptional ingredients, and we've got you covered. Our carefully sourced brewing ingredients, including malts, hops, and yeast, are ready to help you create beers that stand out. So, if you're in search of the best brew ingredients to fuel your brewing passion, explore our selection today.