WE HAVE OVER 1900 PRODUCTS ON OUR SITE! SEARCH FOR YOUR PRODUCT HERE:
Youngs Harvest Homebrew Beer Kits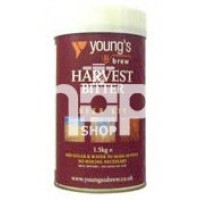 Easy and Affordable Beer Making with Harvest Beer Kits
Youngs Harvest Beer Kits produce traditional beer styles that accommodate easy drinking with much-sought value.
This easy beer kit makes up to 40 pints of classic homebrewed real ales that are perfect for any occasion.
We find this range of home brew beer kits, is a good start for beginners looking to dip their toes into home brewing.
With a Harvest Beer kit, all you will need is some basic homebrewing equipment & 1kg of brewing sugar.
If you are looking to experience a rich beer with better flavour, body, head retention and mouthfeel.
Then we recommend swapping out the 1kg brewing sugar for a beer enhancer liquid/dried malt extract.